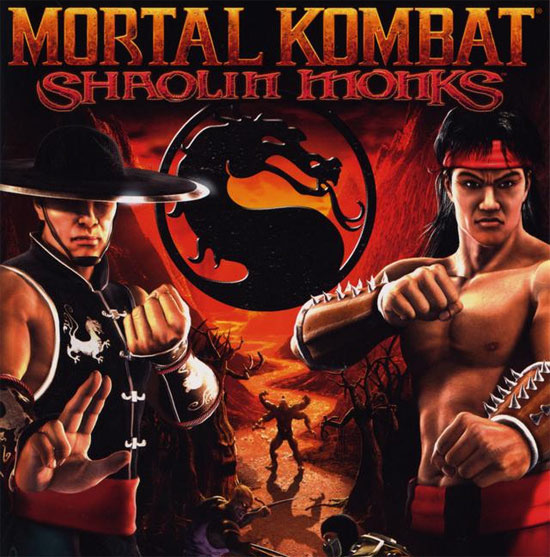 Mortal Kombat Shaolin Monks |  PC – PS2 | 3.33 GB |
A 3D action-fighting spin-off of the brutal fighting series, Mortal Kombat. Play as the shaolin monks Kung Lau or Liu Kang in this blood-soaked quest that takes players through the backstory and through many of the lands of the original three MK games.
Release Date: September 19, 2005
MSRP: 19.99 USD
M for Mature: Blood and Gore, Intense Violence, Language
Genre: Fighting
Publisher: Midway Games
Developer: Midway Studios — Los Angeles
Shaolin Monks is an action-adventure game that spans the events of Mortal Kombat II, starting with the aftermath of the first Mortal Kombat. The game centers on two members of the Shaolin Order, Liu Kang and Kung Lao, as they travel through the realms in an attempt to thwart Shang Tsung's plans to dominate Earthrealm.The battle raged furiously on Shang Tsung's island fortress in the Lost Sea, as the sorcerer watches from his throne. The Shaolin monk Liu Kang defeats Shang Tsung, and the giant Goro comes to his defense. With Goro distracting everyone else, Shang Tsung creates a portal to Outworld and retreats. Raiden appears afterwards and warns the remaining fighters to get off the island palace because it is collapsing into the sea.
Everyone, except Liu Kang and Kung Lao, evacuates and escape back to the Wu Shi Academy. Liu Kang and Kung Lao, however, have to fight their way to another portal to get to Wushi Academy. Upon arrival, they meet Baraka and the Tarkatan attacking the Wu Shi Academy. The Tarkatans are defeated, but Baraka captures Sonya Blade. Raiden confirms that Shang Tsung is trying to lure Liu Kang and his allies to Outworld where he can order his henchmen to attack them and bide his time for power. If successful, Shang Tsung will conquer Earth without winning a Mortal Kombat tournament, which is cheating.
The Shaolin Monks, Liu Kang and Kung Lao, journey through the nightmarish realm of Outworld to stop the sorcerer's plot. They are guided by Raiden and assisted by Johnny Cage. Throughout their journeys, they are joined by a mysterious princess named Kitana, meet familiar foes and eventually save Sonya and stop Shang Tsung. But the sorcerer is not the only person who wants Earth; the Emperor of Outworld, Shao Kahn, wants Earth for his realm and he will stop at nothing until he gets it.
INSTALLATION INSTRUCTIONS:-
FOR PS2:-
JUST BURN ISO AND MOUNT IN PS2.
FOR PC:-
1.OPEN EMULATOR.
2.GO IN OPTIONS AND CONFIGURE PLUGINS ACCORDING TO YOUR NEEDS.
3.GO TO "CD DVD"AND LOCATE AND MOUNT THE ISO.
4.ENJOY
1GB links
Extabit
http://extabit.com/file/28ckyk03dl689/
http://extabit.com/file/29g2qw9ibv4ct/
http://extabit.com/file/28ckyk03dl9bt/

Turbobit
http://turbobit.net/tgqrfjezgdn0.html
http://turbobit.net/tjlsosdjsgh9.html
http://turbobit.net/d1jnb6lfdybw.html

Uploaded
http://ul.to/4bbv1pmk
http://ul.to/uqfezlfb
http://ul.to/0q8rwj5f

Ultramegabit
http://ultramegabit.com/file/details/V2vDv4Ldmwg
http://ultramegabit.com/file/details/fe9szN7hpDM
http://ultramegabit.com/file/details/PypkAwqNMYE

junocloud
http://junocloud.me/w4b20yklucse/Excgame.com.MorKoShaMo.part1.rar
http://junocloud.me/lelp6v0uk288/Excgame.com.MorKoShaMo.part2.rar
http://junocloud.me/31vjpgg5gzut/Excgame.com.MorKoShaMo.part3.rar

Lumfile
http://lumfile.com/zv0kv7ogs1kg/Excgame.com.MorKoShaMo.part1.rar.html
http://lumfile.com/iaoabmtk9t0a/Excgame.com.MorKoShaMo.part2.rar.html
http://lumfile.com/2kz1isxc8lks/Excgame.com.MorKoShaMo.part3.rar.html

Putlocker
http://www.putlocker.com/file/DB073A1AA38A0611
http://www.putlocker.com/file/9B8C8DC012EF74A3
http://www.putlocker.com/file/D6F40707B05CF4B3

brutalsha
http://brutalsha.re/zhb3bemapkei
http://brutalsha.re/k9dxjfvrg1jm
http://brutalsha.re/i4c02knq4v18

Bitshare
http://bitshare.com/files/3ylndacf/Excgame.com.MorKoShaMo.part1.rar.html
http://bitshare.com/files/357s5egh/Excgame.com.MorKoShaMo.part2.rar.html
http://bitshare.com/files/5oc48m83/Excgame.com.MorKoShaMo.part3.rar.html